"Education is the most powerful weapon which
you can use to change the world." - Nelson Mandela
At liV, we champion education as the most
powerful game changer in healthcare
liV adheres to the principle that the primary purpose of Continuing Medical Education/Continuing Professional Development (CME/CPD) is to address the educational needs of physicians and other health care providers in order to improve the health care of patients and improve public health outcomes1.
We follow 5 key aspects when considering our
recommendations for educational initiatives:
1
Honor the patient perspective and start with the end in mind, focusing on the intended outcomes of the initiative
2
Consider the Healthcare Practitioner's stages of learning
3
Create educational strategies that focus on gaps in knowledge, competence or performance
4
Design participant learning experiences that provide optimal engagement while including opportunities to practice and receive feedback
5
Continuously assess and improve the value-add for patient outcomes
An understanding of the patient reality including physiological, lifestyle, and emotional impact is at the heart of our consideration when first seeking to understand the educational needs of the associated healthcare practitioners. We validate the learning gap by conducting a needs assessment analysis drawing upon solid scientific and medical evidence.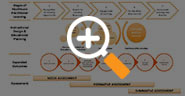 Once the needs of the specific target learners are correctly identified, liV assesses the optimal instructional design utilizing the Moore et al2 conceptual framework model which was designed specific to healthcare education.
The final touch: Intimate knowledge of the target learning audience allows us to put ourselves in their shoes to further refine, innovate and enhance our educational program design.
We firmly believe in the importance of innovative, engaging educational initiatives that are targeted and effective in changing the behaviors of healthcare practitioners (HCPs) and consequently positively impacting patients' lives, individually and at the community level.
"Leadership is about making others better as a result of your presence and
making sure that impact lasts in your absence." Sheryl Sandberg, quoted from the
Harvard Business School definition of leadership
At liV, we know that impactful education demonstrates value in healthcare,
establishing leadership and presence
Any impactful medical education program is sound in scientific content and clinical evidence. It should be specific in targeting the learning gap and engaging to the learner's senses. It puts the patient experience at the center and encourages learners to positively change their attitudes and behaviours. When successful, it resonates deeply with the human desire to help and leaves all involved with a sense of accomplishment.
Advances in healthcare and
within key therapeutic areas
We manage educational programs in a diverse number of therapeutic areas, including but not limited to:
Cardiology & Internal Medicine
Nephrology
Endocrinology & Diabetes
Neuroscience
Gastroenterology
Oncology & Hematology
Respiratory
Dermatology
Rare Disease
Rheumatology
Infectious Disease
Anesthesiology
Adult learning principles
and methodology
The key difference about adult learners is their self-awareness and ability to bring experiences to the learning process that younger learners do not.
MOST EDUCATORS AGREE:
THE BEST LEARNING PROGRAMS TOUCH
UPON 3 KEY LEARNING DOMAINS:
COGNITIVE
Knowledge
AFFECTIVE
Attitudes & Beliefs
BEHAVIOURAL
Practical Application
3 KEY LEARNING STYLES ARE IMPORTANT:
VISUAL
Learn by:
AUDITORY
Learn by:
Listening
Hearing
Speaking
KINESTHETIC
Learn by:
Experiencing
Moving
Doing
At liV, we take these principles into account, striving to incorporate as many as possible into the learning experiences of our programs.
Educational gap and
learning phase continuity3
A crucial component of an effective educational program involves evaluating the specific educational gap relative to the learning phase.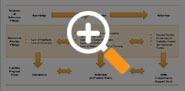 Clarification of the educational need, whether it be in the area of knowledge, confidence, attitudes or behaviours, allows for program recommendations, phasing and linking to demonstrate true value for the learner and for patient outcomes.
Additionally, an educational program can be considered from the perspective of a stand-alone or as part of a series or group of learning programs (continuum of learning) that address the various learning stages over time in order to ensure practice changes.
"We can't solve problems by using the same kind of thinking we
used when we created them." - Albert Einstein
At liV, we believe in challenging the status quo
The world has changed in the last 25 years. Significantly, in terms of technology. And with these new advances, learning is happening in new and exciting ways.
Healthcare practitioners have access to patient records at their fingertips and there has been a substantial increase in the need for educational initiatives centered on team-based patient care.
At liV, we stay one step ahead of trends in healthcare and in education, consistently looking at new ways to offer creative and innovative learning platforms and social media formats. We seek to encourage the healthcare practitioners and clients we work with to stretch their thinking about enhanced learning opportunities and the methods to address healthcare practice gaps.
Our experience includes
implementation of multiple e-learning
programs, either stand-alone
or as complementary to
extend the reach and
impact of a live program.
"Excellence is never an accident. It is always the result of high intention, sincere effort, and
intelligent execution; it represents the wise choice of many alternatives - choice, not
chance, determines your destiny." - Aristotle
At liV, we pride ourselves on excellence in execution
The liV team has a proven track record of delivering medical educational initiatives on-schedule and on-budget, demonstrating the ability to:
Plan effectively and strategically
Work with multiple key stakeholders and healthcare practitioners (HCPs) simultaneously
Develop flawless, code-compliant content and minimize accreditation delays
Extend program reach through multi-platform initiatives
Deliver impactful programs that consistently exceed expectations
Our extensive services in Canada and internationally include strategic planning & logistics support for:
Live Scientific Events including Presentations, scientific exchanges, and Interactive Workshops
Web-platform and Technology-based Programs
Printed Materials and Publications
Multi-stage and Multi-platform Initiatives